Bass 5
Fretless 7 string chambered Headless bass
(like the 5 string, but with 2 more!)
--------- o ----------
After a conversation I had with Steve lawson early last year (Bassist/Guitarist scribe, awsome solo artist and general all round good guy...can I have my next lesson cheap?) we were discussing what my ultimate bass project would be. I had always felt that a six string fretless is just about as exclusive as I would go. But Steve pointed out that every one and his mate makes "sixers" these days and that they are pretty common. So I said "How about a seven?" thinking that would be it. Then Steve said "How about a seven string....headless! No one makes one of those." (Except David King at BGS). He also mentioned that he'd love to try my 5 string headless as a fretless. I wasn't about to rip the frets out of my main working bass. But I could build a 7 string version of it. Same body shape but adapted slightly to work as a seven. So it was settled, but to be frank I didn't even think it was possible. A headless bass requires very specific hardware and if Status, ABM or Steinberger don't make it then forget it, it isn't going to happen. So I sat on the project for about six months.
---------- o ----------
Then I noticed that Rob Green was fitting individual tuner/bridge blocks on his current range of headless basses. If I asked Rob nicely enough I could use 7 of these racked together to make a complete unit....Hmm just the headpiece to worry about.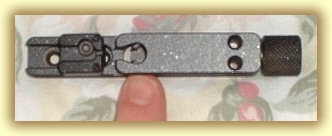 I spoke to Arron Armstrong about the pickups (He thinks I'm nuts...so does my wife, they could be right. I am starting to think that "hobby" is latin for mental illness!) who said that there should be no problem. So it looks like this project is starting to happen. I have a lot of the wood, I have the concept, the bits are nearly ordered....I best get sketching! ( 10/08/00)